Always cheerful and friendly, we have one goal in mind: to make your orthodontic experience successful, fun, and rewarding. We are trained and skilled, and strive to stay current with the very latest in technology and advances by regularly attending continuing education courses and seminars. We are especially interested in making all of our patients feel right at home!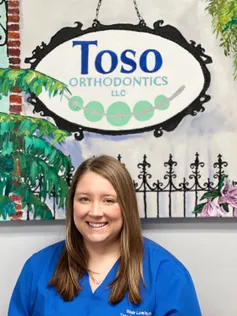 Blair Luwisch
Office Manager
Blair studied Business Administration with a concentration in Marketing/Management. She has been at Toso Orthodontics for over 9 years and is a member of the American Association of Orthodontists Staff Club. She will try her best to make your time at the practice memorable, and is here to answer any questions you may have whether it is about scheduling, insurance, or treatment. Don't forget to ask her about the most current contest going on in the office! In her spare time, she enjoys being with her husband, James and son, James Conrad, traveling, and taking part in outdoor activities in her hometown, Lafitte, such as fishing.
"Seeing the smiles of our patients, their families, and our team makes every day special."-Blair Luwisch.
Kristy Harris
Orthodontic Clinician
Kristy studied Psychology at Southeastern University. She has been an Orthodontic Clinician at Toso Orthodontics since 2019. If you need help choosing that perfect color for your braces she's your girl! One of her favorite things to do is to make retainers to keep those beautiful teeth perfect. Outside of work Kristy loves to make costumes for cosplays! You can find Kristy in the clinic bonding with our patients over videogames and anime. Kristy has two fur babies, her puppies, Kona and Simba. She enjoys taking them on long walks and soaking up the sun!
"The Toso Team and our wonderful patients are my extended family."-Kristy Harris

Sarah Dawson
Orthodontic Clinician
Sarah majored in anthropology at LSU. After graduating, Sarah spent a year in the Disney College Program working at Space Mountain at Walt Disney World. Sarah loves animals and also worked as an entomologist at the Audubon Insectarium, teaching about and caring for their reptiles and bugs (especially the butterflies). Sarah joined the Toso Team as an Orthodontic Clinician in 2020. You can find Sarah in the clinic, assisting the front office, and taking initial diagnostic records with our digital scanner. In her spare time, Sarah loves to watch anime, cosplay, play video games, and hang out with her chinchilla, Mushu and crested gecko, Jareth!
"I have a blast helping patients achieve their dream smile."-Sarah Dawson

---